On this website, you will find Dr Gwet's online repository of Inter-rater reliability materials. You will be able to obtain the following:
Free Articles


You can read free articles. These are my published and unpublished papers.

Computer Programs


You can download computer programs for computing inter-rater and intra-rater reliability coefficients.

Book Excerpts (new/old)


You can review excerpts of my current and future books here as well.
AgreeStat360/Excel Windows
An Excel-based application for performing advanced statistical analysis of the extent of agreement among multiple raters. You may compute Chance-corrected Agreement Coefficients (CAC) as well as Intraclass Correlation Coefficients (ICC).
Check the video below showing how to import your own data to AgreeStat 360, before conducting your analysis (for more clarity you could view
this video on YouTube
).
CAC statistics include Cohen's Kappa, Gwet's AC1/AC2, Krippendorff's alpha and more. ICC statistics on the hand, include various coefficients based on different ANOVA models.
You may also want to get a more comprehensive
overview of AgreeStat/360 capabilities
.
Download a fully-featured version of the program here and test it for free during a 7-day trial period.
If your Windows regional settings are not those of the US nor English Canada, temporarily adjust them (see instructions here) for AgreeStat360 to work smoothly.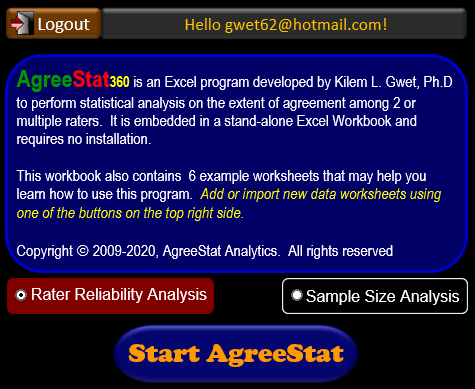 A paid license key for AgreeStat360/Excel Windows will also give you access to the cloud-based agreestat360.com.